A look back at 1959…
A special piece of Rodgers history. Back when co-founder Rodgers Jenkins debuted the first Rodgers electric organ at the 1959 Oregon Governor's Inauguration in Salem, OR. Rodgers was featured in the local newspaper "The Black Bear Gazette".
Decades later, Rodgers Instruments is unwaveringly committed to our founder's vision. With faith, hard work, and dedication Rodgers has led the way in innovative digital and hybrid pipe organ technology. Highlights include building the world's first all-transistor church organs, successfully creating the first pipe-electronic hybrid organ, and being the first company to use microprocessors, MIDI and USB storage in church organs.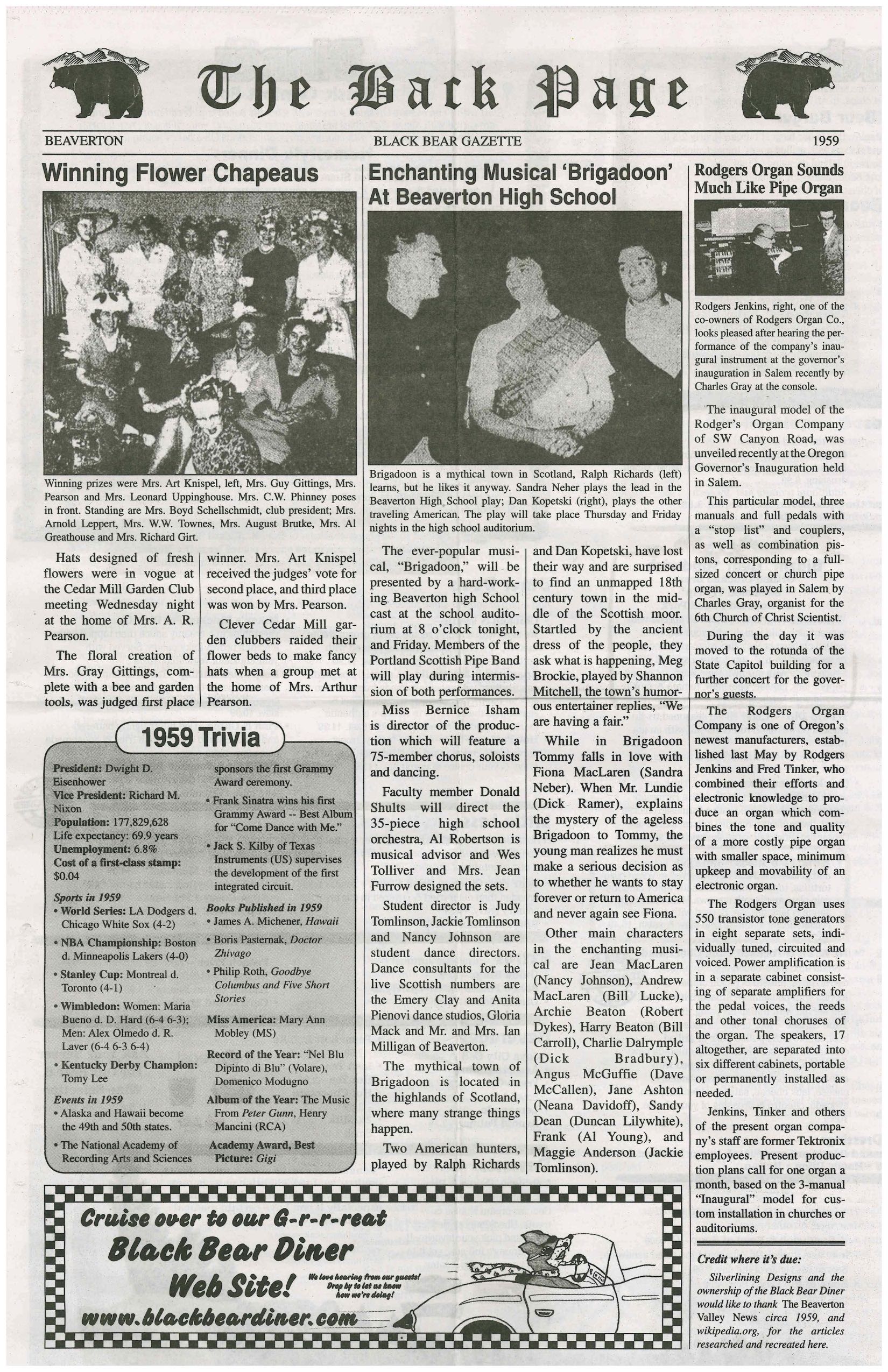 Read Rodgers 1959 Newspaper Article Below
Rodgers Jenkins, right, one of the co-owners of Rodgers Organ Co., looks pleased after hearing the per­formance of the company's ­inauguration in Salem recently by Charles Gray at the console.
'The inaugural model of the Rodger's Organ Company of SW Canyon Road, was unveiled recently at the Oregon Governor's Inauguration held in Salem.
This particular model, three manuals and full pedals with a "stop list" and couplers, as well as combination pis­tons, corresponding to a full­sized concert or church pipe organ, was played in Salem. by Charles Gray, organist for the 6th Church of Christ Scientist.
During the day it was moved to the rotunda of the State Capitol building for a further concert for the gover­nor's. guests.
The Rodgers Organ Company is one of Oregon's newest manufacturers, estab­lished last May by Rodgers Jenkins and Fred Tinker, who combined their efforts and electronic knowledge to pro­duce an organ which com­bines the tone and quality of a more costly pipe organ with smaller space, minimum upkeep and movability of an electronic organ.
The Rodgers Organ uses 550 transistor tone generators in eight separate sets, indi­vidually tuned, circuited and voiced. Power amplification.is in a separate cabinet consist­ing of separate amplifiers for the pedal voices, the reeds and other tonal choruses of the organ. The speakers, 17 altogether, are separated into six different cabinets, portable or permanently installed as needed.
Jenkins, Tinker and others of the present organ compa­ny's staff are former Tektronix employees. Present produc­tion plans call for one organ a month, based on the 3-manual "Inaugural" model for cus­tom installation in churches or auditoriums.