Enjoy the Gift of Music From the Comfort Your Very Own Home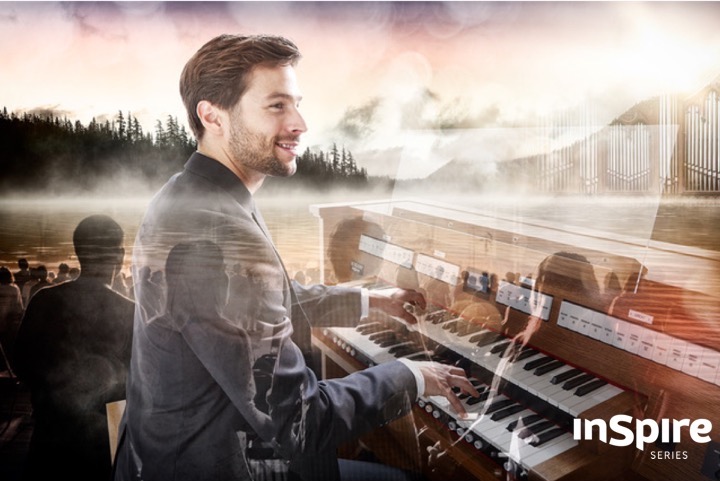 for those who believe in dreams
The Inspire 227, 233, and 343 are the next generation of home and church organs. Born from the dream of homes filled with exquisite musical sounds... Born from the dream of bringing this experience within reach of anyone... All created because we believe in that dream.
To better serve our customers during these difficult times, our dealers are making use of virtual video consultations to help select the perfect home organ.
The Rodgers Inspire Series 227, 233, and 343 organs combine the best in American tradition and the American future: a traditional pipe organ sound meets modern innovation for a spiritual experience like no other. All Inspire consoles come equipped with; Real-Time Voice Palette Selection, Rodgers PDI (Pipe Dimensional Imaging), New Rodgers Samples and Improved Legacy Rodgers Samples, Newly Sampled Orchestral Voices, 12 New Sampled Reverbs, an Internal Audio System, 32 Note AGO Pedalboard, and 50 Memory Levels!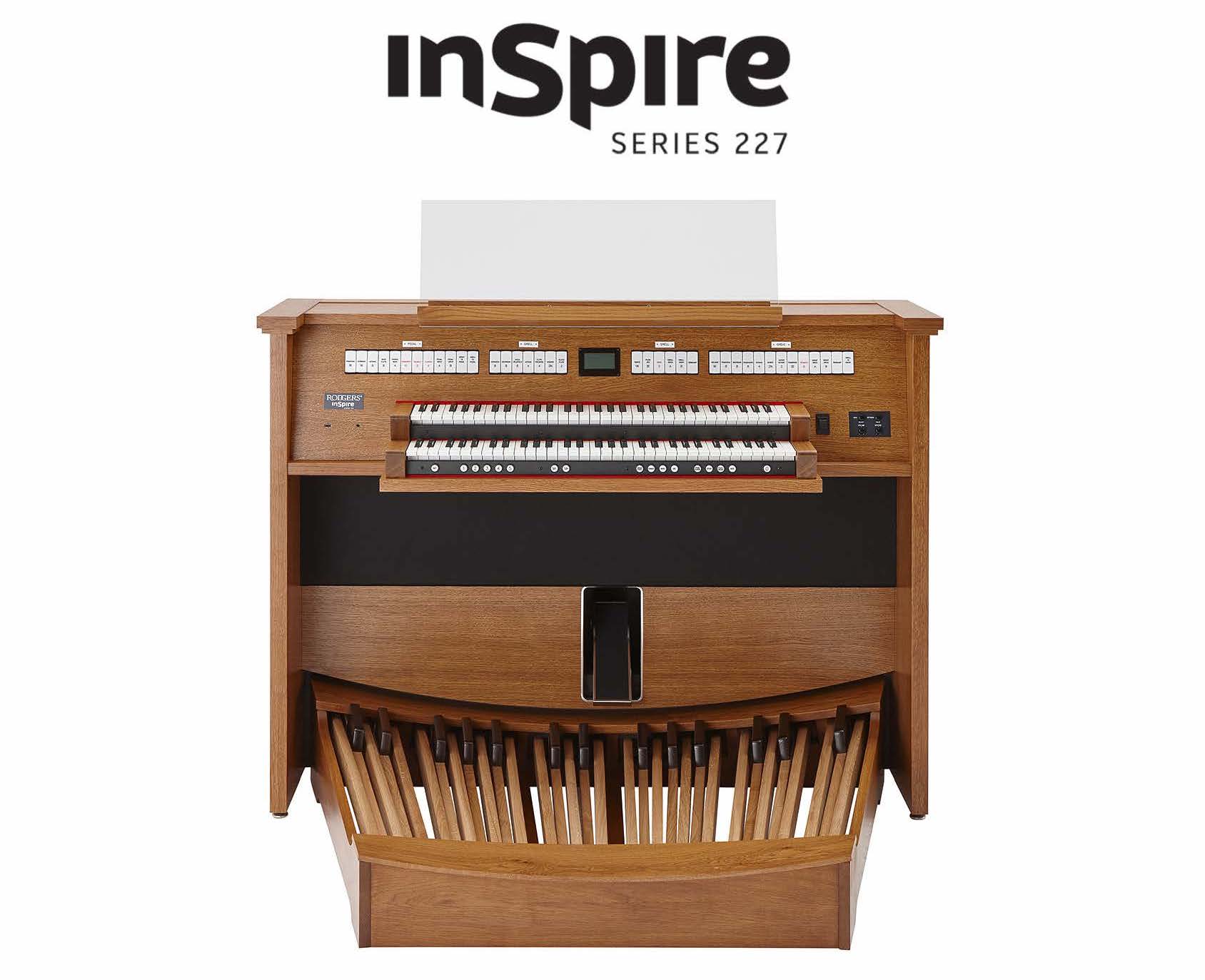 The Inspire series 227 was designed and manufactured as a state-of-the-art home organ: the compact console, made from oak and available in different colors, has the classic look to bring inspiration to any home. With its two keyboards, 27 voices in the standard stop list, and 18 orchestral voices, the organ provides a rich variety of musical possibilities. Available upgrades include; Lighted Music Rack, 5 Toe Pistons, Internal Amp for Kev Speakers, 10 Generals, 5 Divisional Pistons for Swell and Great. For more information on the Inspire Series 227 click here or to view the Inspire 227 music videos click here and here. To request a quote please click here.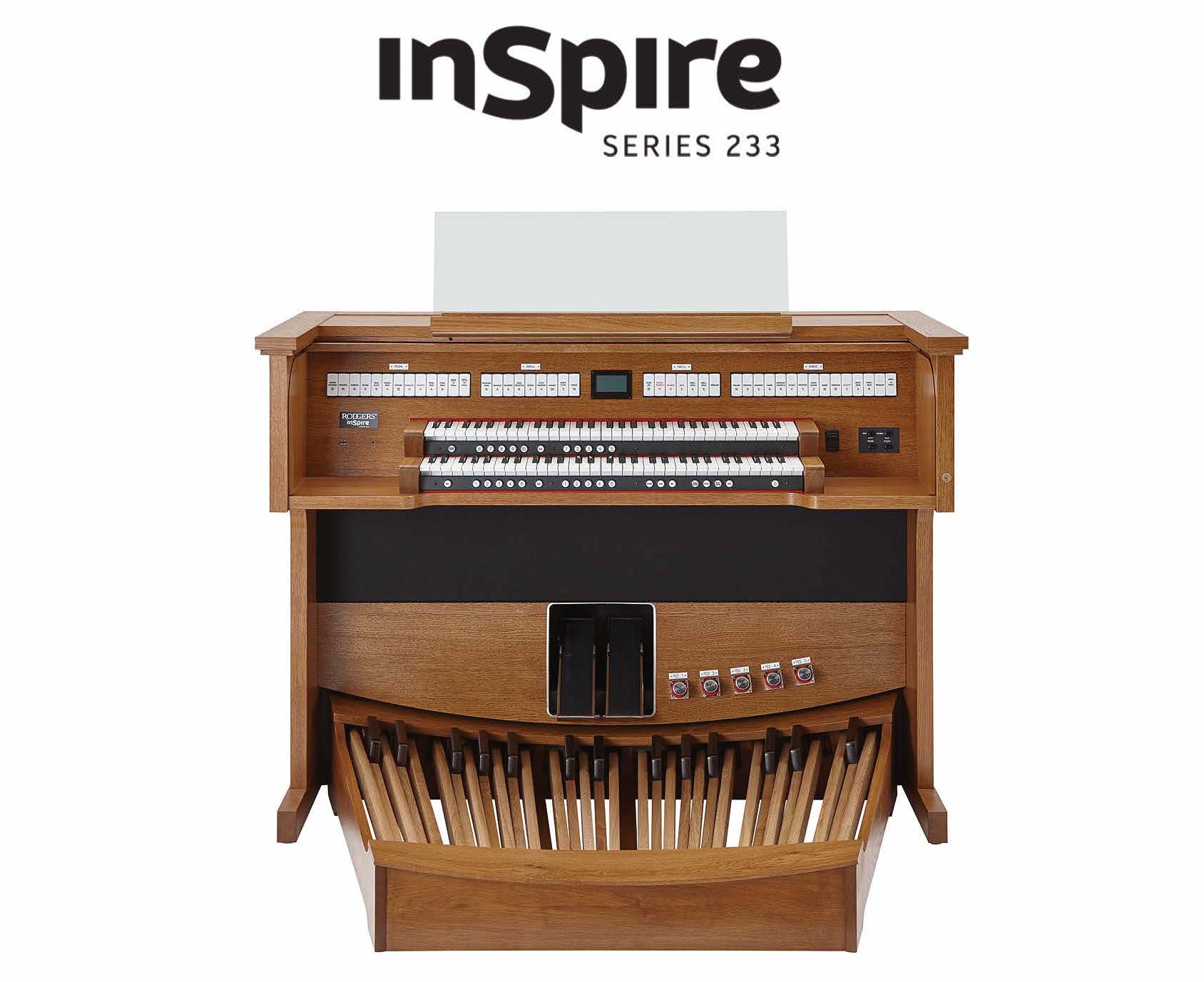 With its state-of-the-art 165 pipe organ voices in four different styles, the Inspire series 233 was specially designed to enhance the spiritual experience. The organ features an integrated 2.1 audio system and can be upgraded with an external 4.2 audio system, making it ideal both for use at home and for a chapel of up to 200 people. Available upgrades Include; Toe Piston Packages (Additional 5 or 9 Pistons); Storage Bench, & an Internal Amp for satellite speakers. For more information on the Inspire Series 233 click here or to view the Inspire 233 music video click here. To request a quote please click here.
FOUR ORGAN STYLES
In addition to the standard stoplist of the Inspire Series– American Eclectic – stops can be selected from the English Cathedral, French Romantic and German Baroque styles. The Variant Library consists of extra stops to choose as desired. The organist is not limited to stops from only one style; all are available instantly.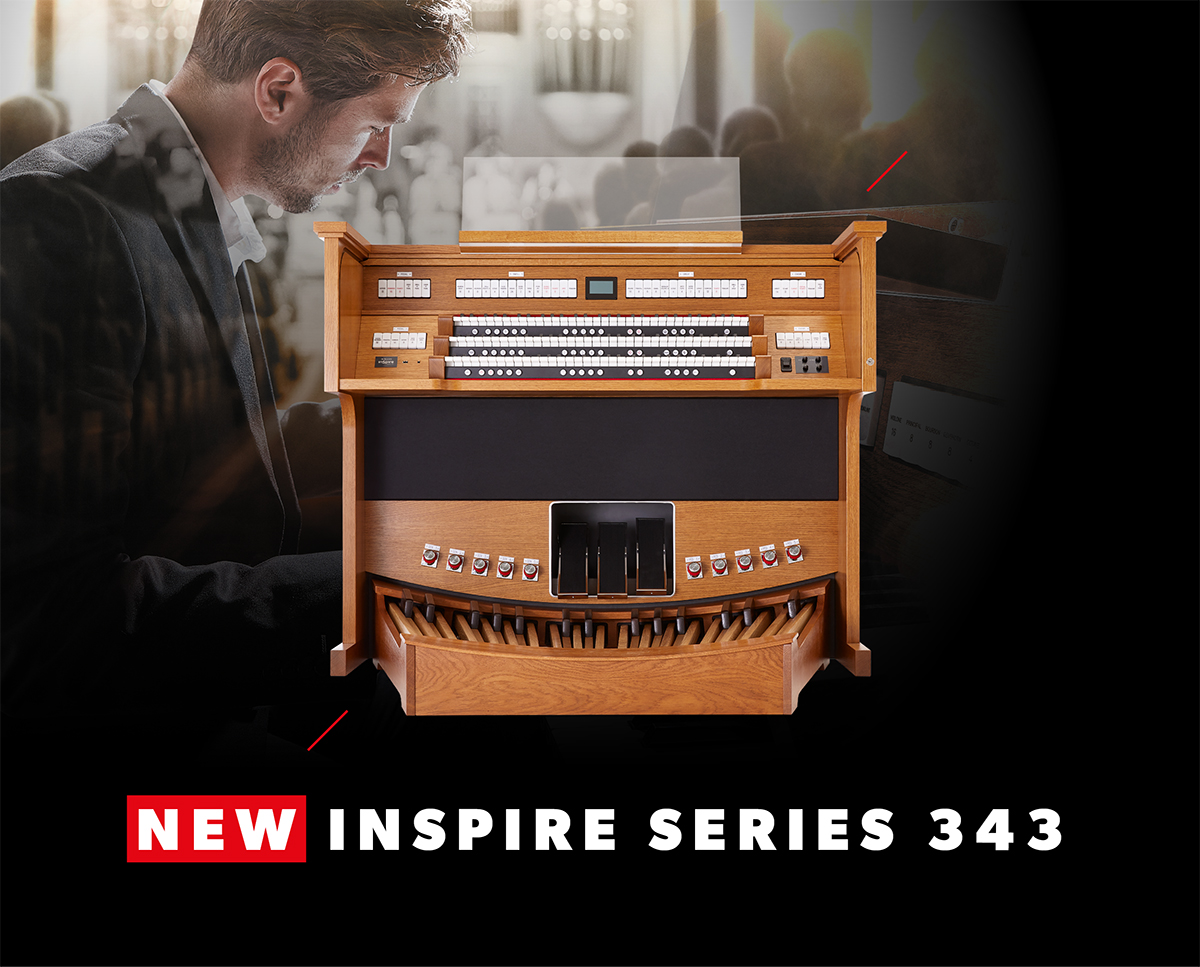 The Inspire Series 343 has a total of 233 stops spread over 43 illuminated stop tabs. The organ features four organ styles, a Variant Library and 18 orchestral selections. Equipped with three velocity-sensitive manuals, a 32-note AGO pedalboard, and an internal 2.1 audio system with the option of expanding to a 6.2 plus 2-channel Antiphonal external audio system, the Inspire Series 343 is a state-of-the-art church and concert organ with unending flexibility.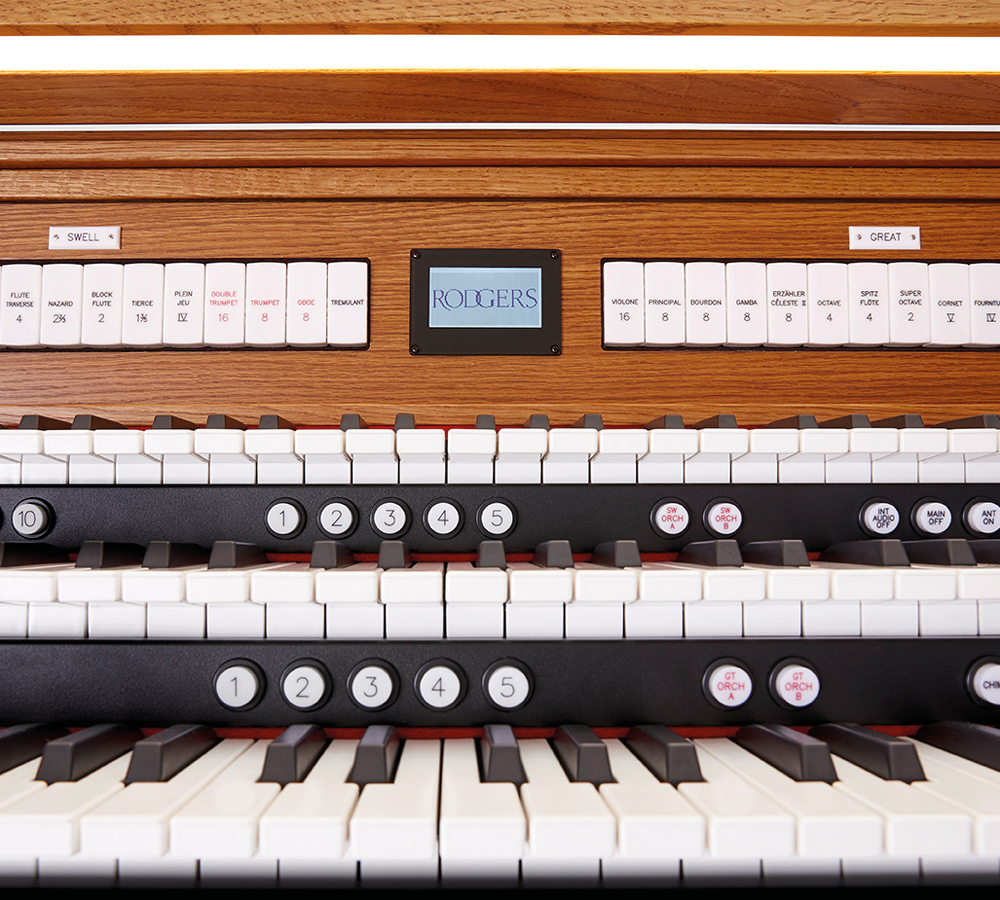 ANTIPHONAL SWITCHING
A particularly convenient feature of the Inspire Series 343 is antiphonal switching. This enables the organ to support congregational worship in large spaces where the congregation may be at some physical distance from the main organ's sound.
For musical effects, the organist can transfer the organ sound with the push of a button for multidirectional sound, or sound from only the rear or the front of the worship space.
Please contact the certified Rodgers Dealer in your area for more information. You can access the Rodgers Dealer Finder on our website
here
or visit
www.rodgersinstruments.com/dealers