St. Joseph's Church Celebrates the arrival of a new Rodgers Artist Series 589 organ!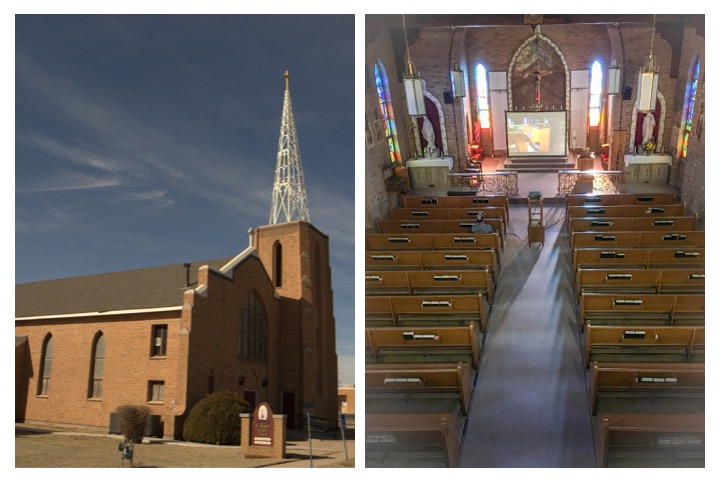 St. Joseph's Catholic Church in Union City, Oklahoma is a small parish located in a farm community of fewer than two thousand people; however, this beautiful stone church has a membership that is very active within the church and the community.
St. Joseph's Catholic Church was first inaugurated in 1893, and dedicated in May of 1894; but after only two years, it was destroyed by a cyclone. A second, replacement church was built in July of 1899, and inconceivably it was destroyed again, this time by a fire in March of 1930.
Restored once again, in 1930, the current building has a plaque on the church tower which indicates that a tornado partially destroyed the church again, and completely destroyed the convent, school and hall, on May 24, 1973. It was restored that same year.
This brick church is under the Oklahoma City Archdiocese. The entrance has two metal doors which are painted red, and above, a beautiful 13-pane arched window. The church has a tall tower on the northeast corner with a very interesting steeple made of metal filagris.
In between two plaques, located on the brick tower, the name "St. Joseph's Church - 1930" reads in traditional script. The two plaques describe this church's history of disaster. They read:
First church built and dedicated May 1, 1894
Destroyed by cyclone in 1896
Second church built and dedicated July 1899
Destroyed by fire on March 19,1930
Both dedicated by
Bishop Theophile Meerschaert
&
Tornado partially destroyed the
church and completely destroyed the
convent, school and hall May 24,1973
Church restored by October 1973
Hall rebuilt in 1975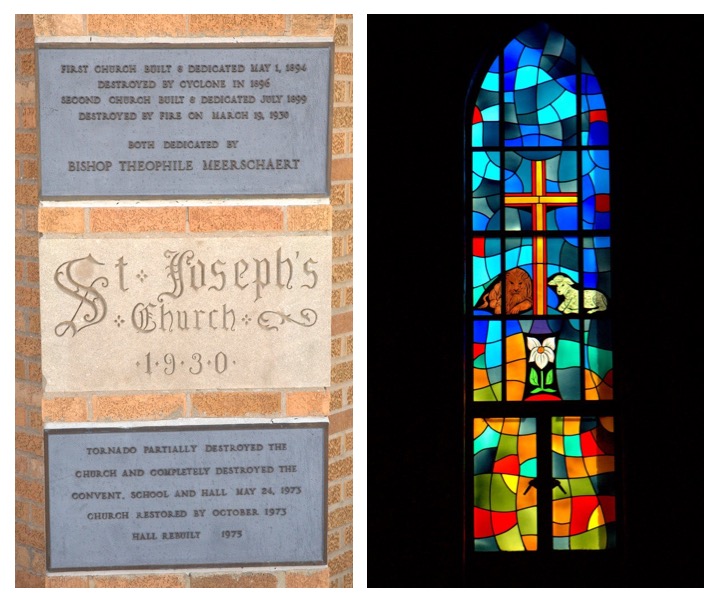 CHOOSING THE ORGAN
In 2015, Mike Bennett, Manager of Church Organ and Piano Sales for Saied Music Company was contacted by St. Joseph's. They wanting to start gathering information about possibly replacing their aging organ.
Later in the year, Mike was contacted again and informed that the Parish Council was going ahead with plans to rebuild the organ loft, and wanted to have someone come to the parish and examine their worship space so that they could begin the process of looking at different organ options to find the best fit.
After making a trip to the church, Mike arranged for organist Sandi Michalicka to meet him for the audition of a Rodgers model 588 three manual organ he had installed at a Lutheran Church not too far away.
Sandi heard and played the Rodgers Artist Series 589 organ and compared her experience to the other manufacturers' organs available. She was excited to recommend to the parish that they approve the proposal Mike had given them for the purchase of a new Rodgers Artist Series 589 three manual organ.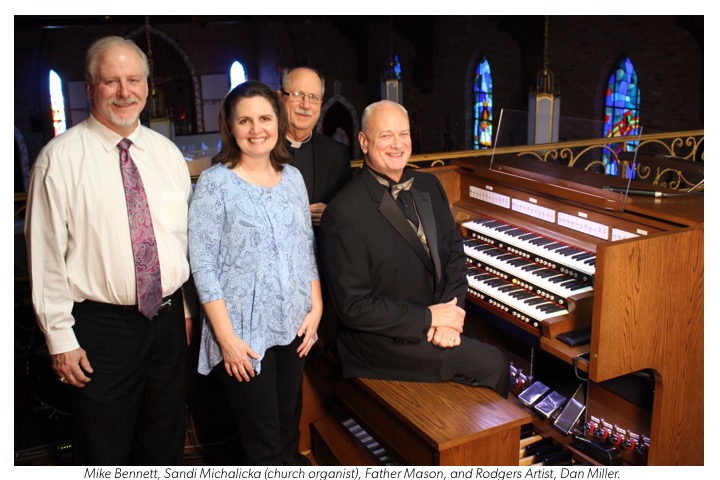 THE NEW ORGAN
The organ console is placed in the rear balcony next to the choir loft. Eight channels of main audio were installed high above the back wall, and 2 channels of antiphonal in the chancel area. The sound was beautiful. Since the new Rodgers organ was installed in February of 2016 and an Antiphonal organ was added in April of 2017, It was perfect timing for Dan Miller to assist with re-voicing the organ with the added Antiphonal.
The parishioners' response to the new organ has been very positive since its installation, and a nice sized crowd was in attendance to hear Dan Miller show the pipe-like realism and versatility of the Rodgers Artist Series 589 three manual organ.
ORGAN BLESSING AND CONCERT
The church presented an Organ Blessing and Concert on Friday evening, May 5th, 2017. The Rodgers Artist Series 589 performed exquisitely and greatly elevated the spirits of all who attended, including church members and visitors from surrounding areas. The concert opened with an organ fanfare and arrangement of the well-known hymn, "Holy God, We Praise Thy Name."
World renowned organist, and Rodgers Artist, Dan Miller, thoroughly enjoyed presenting the concert with a variety of music styles to demonstrate the versatility and pipe-like realism of the three manual Rodgers organ. A video system allowed the concert attendees a "you are there" view of the organ console and to watch Rodgers Artist Dan Miller in action.
Rodgers kindly congratulates St. Joseph's Catholic Church, and Mike Bennett (Saied Music) on this beautiful installation.