Testimonial: A New Rodgers Artist 599 at Bethany Presbyterian Church!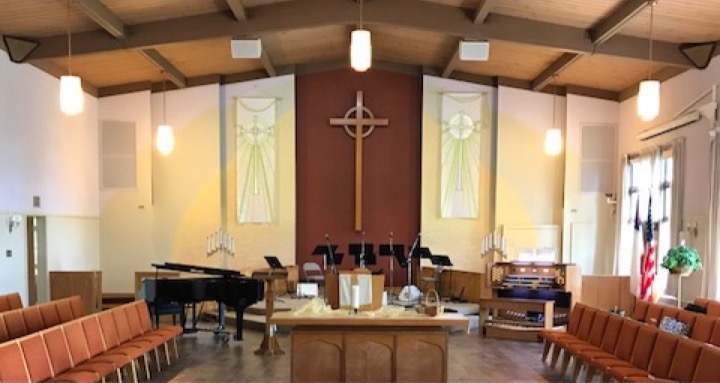 by Todd Alan Constable, Organist and Director of Music in Worship for Bethany Presbyterian Church, San Bruno, California
We have in the sanctuary a beautiful new organ. It was made in Oregon by the Rodgers Company, rolling off the assembly line middle May 2017. The final tweaks of the installation were completed recently, on Wednesday, August 2nd.
There was the removal of the giant "brain" of [a different manufacturer's organ] which lived unceremoniously "in the closet" for 40 years. Its "coming out" was also without ceremony since nobody was around, and, what's the big deal, really, anyway? Revealed was a surprising amount of baggage, actually, fitted tightly into neat compartments on shelves and rolled into its dark hiding place decades ago; now, it's a tidy new storage spot for the organ amplifier, drums, hand-bells, etc. The former, giant speakers entombed behind screens above each side of the chancel were removed, and the shelving for those deconstructed. The screens covering those spaces were removed, disassembled, and re-covered with modern, sound-friendly fabric; this required the hydraulic lift, and therefore removing choir benches from the former "choir loft" and taking down the screen projector which has recently been re- positioned.
The speaker cabinetry interiors were painted black. Here, the large, new, advanced-technology speakers were directed at 45o angles toward the center of the room. Wire was run and speakers were placed in the back of the sanctuary for antiphonal use of solo stops (State Trumpet, for instance) and/or whatever divisions one might want "speaking" from the back. The acoustic field was treated and carefully developed in such a way that sounds do not "bump into" one another. It really was a very thoughtful process.
Selection of the organ
The 3-manual Rodgers Artist Series 599, was informed by much consideration, travel, comparison playing and listening, and consultation. The final decision was made happily, and was based distinctly upon the sound itself, and also, the quality of construction, the very "feel" of the thing. By the selection of a medium Oak finish, it would appear as though the console was placed along with the original furnishings of Bethany Church. While one school of thought holds that a console itself doesn't require looking nice, since there is "no need to gaze upon it," an alternate view is: approaching and playing a beautiful instrument brings an experiential understanding of an instrument's importance above its player.
By grace, we are blessed in this endeavor to have been served by Robert Tall & Associates, representatives for Rodgers Organs. He was assisted by Robert Knight, Knight Pipe Organ Company, San Diego, California, principal installer/technician contracted for this installation. Robert Tall loves the Organ. He is active everywhere in the world promoting Organ in general, and in his forty-plus years with Rodgers, has traveled extensively seeking out the best pipe sound-sampling, being highly influential in the very sound technology we have now at our disposal in worship. He is celebrating his 80th year, and is one of the happiest, most active, kind, gentle and generous-with-wisdom persons I have ever met, and funny. He is an exemplary being, who is genuinely very happy for us. One day, he will play for us.
Our new sanctuary organ was made possible by the effort, concert-giving, fundraising/fund-giving of innumerable persons and groups over several years. The organ was purchased with funds provided entirely by donations, all made to the common goal called "new organ." Of these donors, many asked specifically to remain anonymous, and zero persons asked to be identified publicly as having contributed in any way large or small; therefore, appropriately, there is not and will not be a display of such personal information, but a resounding thank you must again ring out to all. Thank You! What you have made is an everlasting and eternal gift, without question. By one who loves service-playing, perhaps above anything else, it is said: it's a joy to have been in my small way a part of bringing this to fruition. The new Sanctuary Organ will ably serve the worship life of this church for decades. It is a delight to play, and its capacity for expression has only begun to be explored.
Rodgers would like to kindly thank Bethany Presbyterian Church and Todd Alan Constable for taking the time to write this uplifting piece. We would also like to thank a premier Rodgers Dealer, Robert Tall & Associates, Inc. for their continued professionalism and excellence in the field.