An Update From an Admired Rodgers Client...in Longboat Key, Florida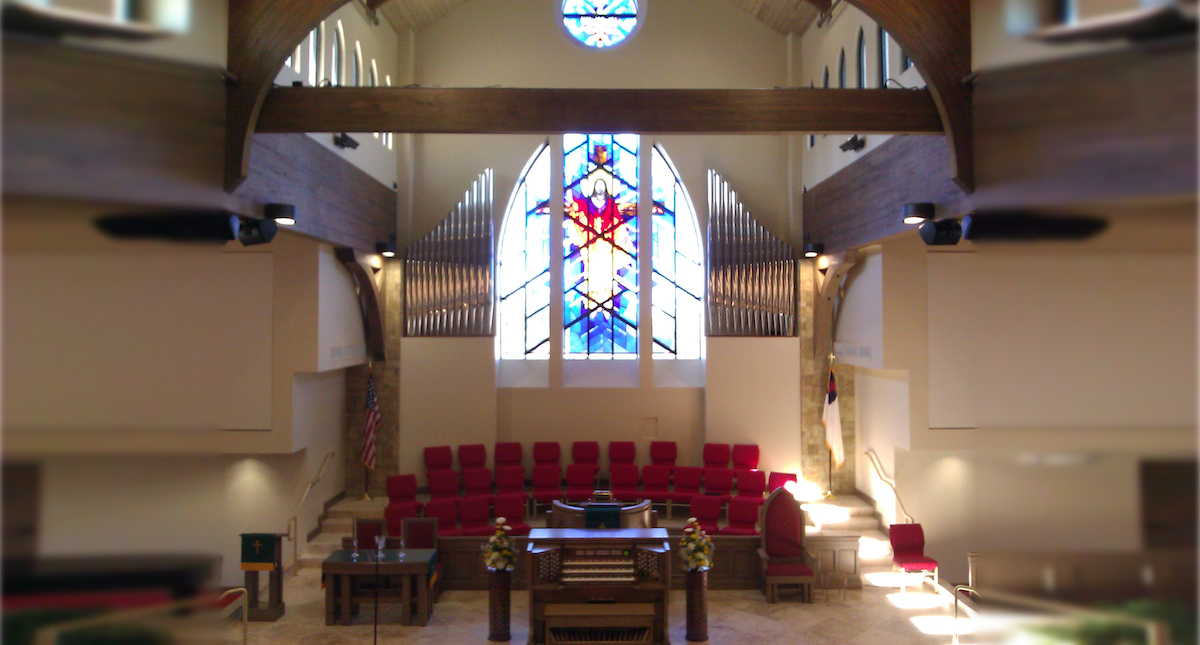 Please enjoy the gifted organist Susan Crumpler, while she plays a special rendition of 'Adoration' and 'I Worship You', mixed together, at the Christ Church of Longboat Key, in Longboat Key, FL. The Rodgers three manual organ's (Masterpiece 356) sound is exquisite and Susan plays beautifully, and "full of MIDI" in the charming and charismatic Florida church. You can listen to Mrs. Crumpler's piece here.
Mrs. Crumpler and her husband are very active in their local AGO chapter. Mrs. Crumpler likes to play with the Orchestral side of the organ and has worked as a music educator in schools, private studios, and as an organist &/or choir director in Manatee County, Bradenton, FL for the past 45 years. She playfully exclaims,"I've always said I got my money's worth out of my Bachelor in Music Ed and Master's degree in choral conducting. The Christ Church of Longboat Key states, "[our] gothic arches and Christ-centered stained glass window expresses our faith. We are an active church. We grow together in education, have fun in our fellowship, care for each other in love and are active in mission to our community and world."
EXPERIENCE PLAYING THE RODGERS ORGAN
"I've played on numerous electronic and pipe organs over my career and until three years ago I never had a Rogers organ in any of my churches. That is when I was hired to be the organist at Christ Church of Longboat Key, a Presbyterian church in Longboat Key, Florida. I've been fascinated with MIDI for many years and frequently used MIDI instruments with teaching keyboard, piano and organ."
"The wonderful MIDI sounds that can be coupled into the 'normal' registrations on the Rogers organ is to me, one of the most exciting parts of this instruments. I spend a lot of time tweaking the sounds to have just the right amount of extra traditional sounds, or by enhancing it with strings, woodwinds, brass, or any number of non-traditional sounds."
"Since my church is right on Gulf of Mexico Drive, you can only guess how much I enjoy the seashore sounds, wind, rain, streams and other sounds of nature. I still haven't used the thunder yet! Nature does her own work on that. The first time I played with a running stream the congregation thought the church had a water leak. But, it got them talking about the organ and its great number of possibilities. Now, they look forward to what I can create next.
'Lord, When you Came to the Seashore' (Lakeshore) was fun to accompany a vocal soloist with just last month. The seashore was in the pedals since it was easier to control in that division.
'Easter Chimes' was played for an Easter prelude last year. Of course there were chimes, but I added a few bird sounds in the middle section, for that 'in the garden' feel. You just have to pretend you are an artist with a lot of colors and take time to be creative."
"Our organ is used for congregation singing, choir accompaniments as well as the basic organ literature for church services; preludes, offertories, postludes and special music with vocalists or instrumentalists. We also have a guest organist in every year to present a full concert as part of our Music Series concerts. Our organ was chosen prior to my arriving, but only by a couple of years. The Organ committee did a great job of selecting this instrument."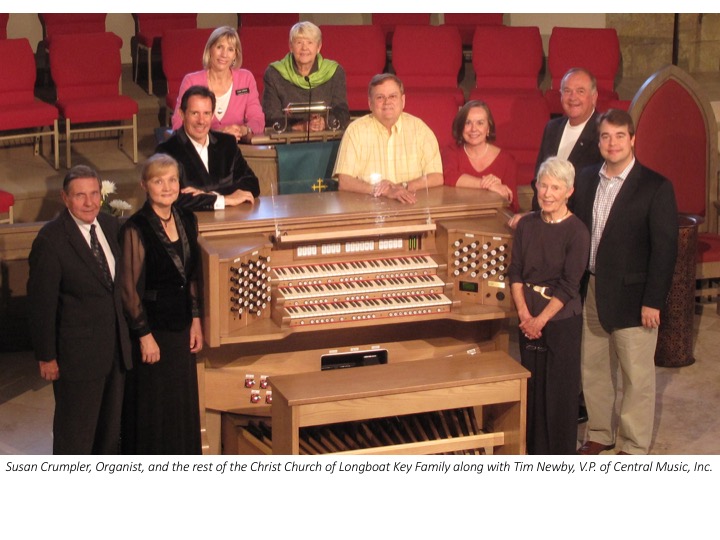 Rodgers would like to kindly thank Christ Church of Longboat Key and Mrs. Susan Crumpler for taking the time to participate in this article. We would also like to thank premier Rodgers Dealer, Central Music, Inc. for their continued professionalism and excellence in the field.