A Message from Organist Sean Fullerton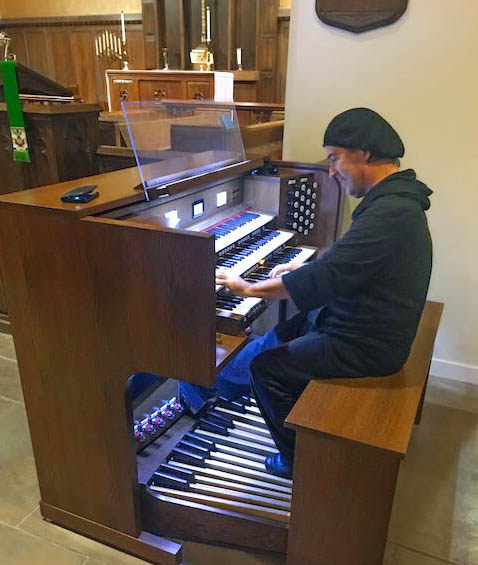 The following message is from Sean Fullerton, Assistant Music Director and Organist of the Episcopal Church of the Epiphany in sunny San Carlos, California. Rodgers congratulates the church on their new Rodgers Artist Series 599 organ. Sean brilliantly describes why the three-manual organ, with its lighted drawknobs, built-in hymn player, and 10 configurable toe pistons, was the perfect choice for them. We kindly ask you to enjoy.
TESTIMONIAL
I am in love with our new Rodgers Artist Series 599! The name Artist is very apt because the sound quality which this instrument produces is worthy of the finest masterworks, whether baroque, classical, romantic or modern. This organ does it all and does it well.
Whether composing, improvising, or accompanying soloists, choirs and congregations, this is a soulful dream instrument, with achingly gorgeous sounds and power beyond belief. Incredible!
I must thank Dr. Robert Tall for his infinite patience in working with us at Episcopal Church of the Epiphany, San Carlos. (Bless you, my friend!) This organ sounds as superb as it does because of Bob's golden ears: the voicings, the speaker placement, the overall balancing reflects the taste level and knowledge of this artistic man.
This instrument is lifting our church services to a new palpable level. Our members love to sing and this organ elevates our spirit beyond what I ever dreamed possible.
Bravo, Rodgers! Your instruments are peerless.
SEAN FULLERTON, ASSISTANT MUSIC DIRECTOR AND ORGANIST, EPISCOPAL CHURCH OF THE EPIPHANY, SAN CARLOS, CA.
Rodgers would like to kindly thank the Episcopal Church of the Epiphany and Sean Fullerton for taking the time to write this uplifting piece in Rodgers organs. We would also like to thank Rodgers Dealer, Robert Tall & Associates, Inc. for their continued professionalism and excellence in the field. Robert Tall, who Sean Fullerton refers to as the man with the 'golden ears' has been representing Rodgers since 1970.