A New Rodgers Artist Series 589 3-Manual Organ Installed in West Fargo, ND!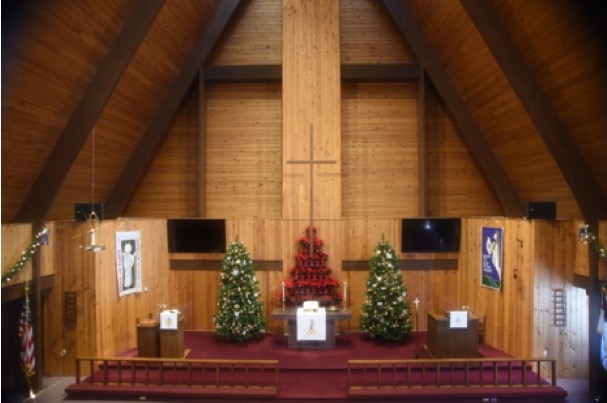 Rodgers congratulates St. Andrew's Lutheran Church's new Rodgers Artist Series 589 organ! Read below, as a Rodgers longtime representative and dealer gives their account of an uplifting story about enhancing the spiritual experience through music and community.
Peggy Bartunek of Rodgers Classic Organs of North Dakota, South Dakota and northwestern Minnesota, a premier Rodgers Dealer offers a unique insight, "I'm feeling pretty good about a recent 589 installation at St. Andrew's Lutheran Church (LCMS) in West Fargo, ND for a variety of reasons. I've been working with the church for several years but they simply couldn't afford a new organ. In early November a major donor came forward, providing about 1/3 of the cost. In short order, the congregation pledged the remaining funds and ordered a 589.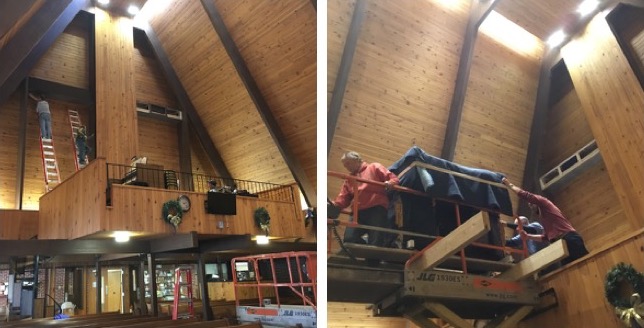 I commonly invite churches to choose between my contracting someone to build cases or to have church members do it. Almost always, the church chooses to do it, partly to save money, but also to involve church members. Under my direction, congregation members built and installed the cases, ran the speaker wire, and moved the organ into the balcony, saving themselves considerable installation fees. I wired the organ the amp and console cable, but the church members did everything else. From beginning to end, the sense of community building was palpable.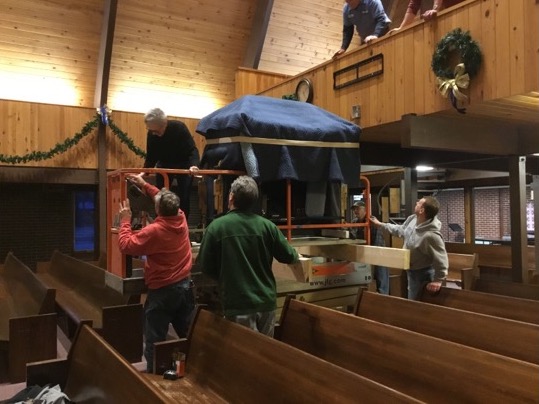 You'll see the 'before' and 'after' pictures below. There were no chambers and the walls were outside walls, so the cases had to be visible. With a sketch, I created of what I envisioned, one member designed and built the chancel and balcony cases. We chose brown grille cloth to tie in with all of the brown design elements in the church. The Swell and Great FR1's are in the front case, the SW6 speakers are in the lighted area to the right and left of the TV monitors. The Choir FR1's are in the balcony case along with the console. Although I didn't see it when I was designing it, more than one church member has pointed out that the cases, along with the wide center panel, create a large cross. Also, more than one person thought that the cases had been there all along.

After installation and voicing, I worked with the organist and attended the Sunday service for its first hearing and dedication. Rodgers Organist Dan Miller will be presenting a workshop and concert in April to further showcase and appreciate St. Andrew's Lutheran Church's new Artist Series 3-manual organ."
Rodgers would like to kindly thank St. Andrew's Lutheran Church and a premier Rodgers Dealer for the North Dakota, South Dakota and Northwestern Minnesota area, Rodgers Classic Organs for their continued professionalism and excellence in the field.