A Rodgers Hybrid Organ is Featured in a Local Newspaper in Clovis, NM!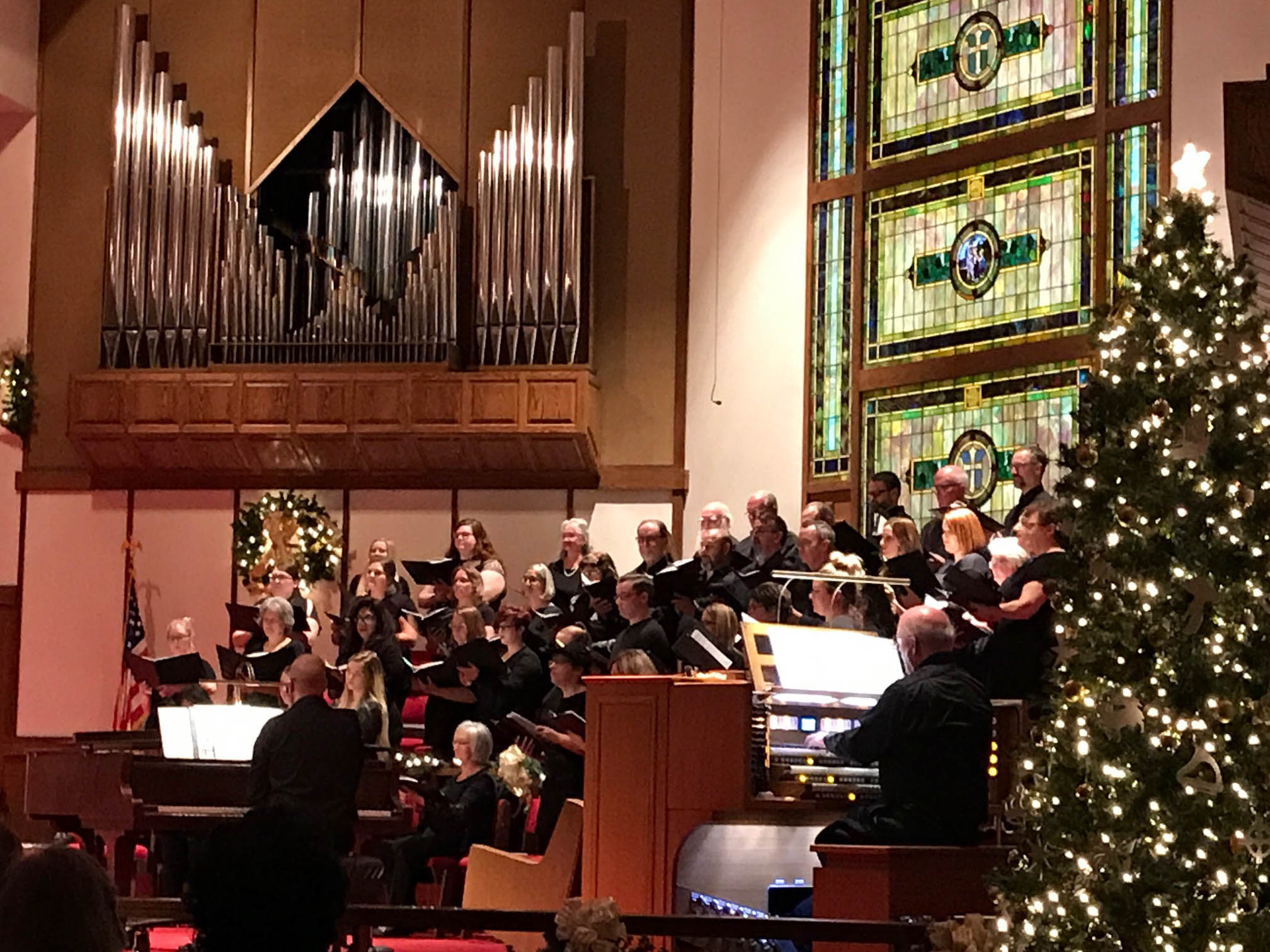 By Kevin Wilson - EDITOR, The Eastern New Mexico News
CLOVIS - A different type of organ donation is happening in Clovis, and it's bringing a little bit more heavy metal (and wood) to a local church.
New parts have arrived for the pipe organ at First United Methodist Church, and when they're installed church members say they will have the largest pipe organ between Albuquerque and Lubbock.
The project, paid for by a church member and handled by Church Organ Solutions of Richardson, Texas, is adding two ranks - or 122 pipes - to the current 227 pipes that play at the Sycamore Street Church. That will make it a six-rank organ.
St. James Episcopal Church, with a two-rank organ, is the only other church in Clovis that has a pipe organ, according to Ferrell Roberts, the longtime organist for FUMC.
There's really no limit to how big a pipe organ can be, Roberts said, noting Texas Tech's Hemmie Hall organ comes in at 81 ranks. But you're normally going to be limited by either finances or pipe space.
The current distribution of pipes for FUMC's organ is: A rank of 44 pipes for the organ's foot pedal. Three other ranks of 61 pipes each - 8-foot principal, 4-foot octave and 2-foot super octave. The smaller the pipe, the higher the pitch for a note. The two ranks being added are both basically flute-like sounds - 61 metal pipes for 8-foot open flute, and 61 wooden pipes for 4-foot Holtz Gedeckt.
An organ has keys like a piano, and that's about where the similarities end. The 61 keys (versus 88 for a piano) are staggered on three levels of the organ, which also includes a set of foot pedals and knob panels on both sides of the keys.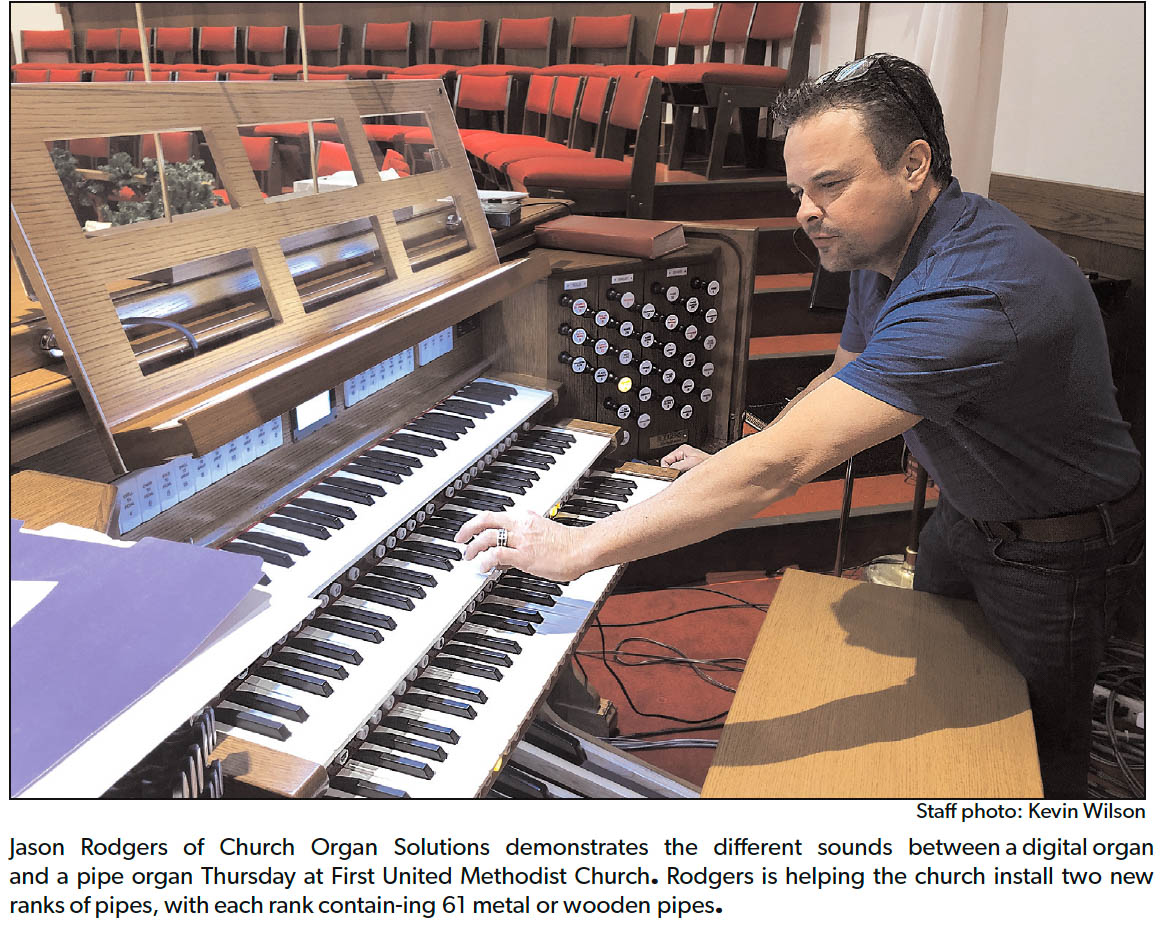 "They're two different instruments," said Roberts, who started organ lessons in 1960, and admits he's never really stopped learning it. "Piano training allows the organist to have better skills. There are very few organ players that don't play the piano at some time."
A pipe organ has been with the church intermittently through its history, with a Kilgen installed in 1930 in a prior location. When FUMC located to its current home around 1977, a digital organ was installed and served the church just fine. However, the church was always built with a pipe organ in mind, thanks to a pair of overhead chamber rooms where pipe could be installed.
In 2002, a new hybrid organ console was purchased that could do digital and play pipes. That console couldn't handle any more pipes, so a new Rodgers Infinity Series 361 organ has been purchased for the church to handle the six ranks.
Jason Rodgers - no relation to the organ company - owns Church Organ Solutions. There are probably about 15 businesses like it in the country, and his presence in Clovis installing the pipes and console shows his business deals more with mileage than competition. He handles Texas, part of Oklahoma and the bordering counties of New Mexico.
The Rodgers family is three generations in the business. Jason's father Rodney worked for 48 years in the business and son Jordan has helped with installations. Most of the business Rodgers gets is for digital organs. It's less expensive, and less expansive. A digital organ synthesizes sounds, which are then played through a speaker. Digital does pretty much anything a church could ask for, Rodgers said, including MIDI sounds that simulate various musical instruments.
Pipes, meanwhile, create sound naturally with low pressure air blown into the bottom or foot of a pipe. The business is mostly digital, like anything these days, but Rodgers still gets one or two customers every year seeking to either install a pipe organ or add ranks to what they've got.
The pipe organ is just different. "A pipe versus digital doesn't give more volume," Rodgers said, "but it does give a broader sound because it actually moves air in the room." Installation is expected to take another week to 10 days.