St. Paul Baptist Church Celebrates their New Custom Rodgers Infinity 484!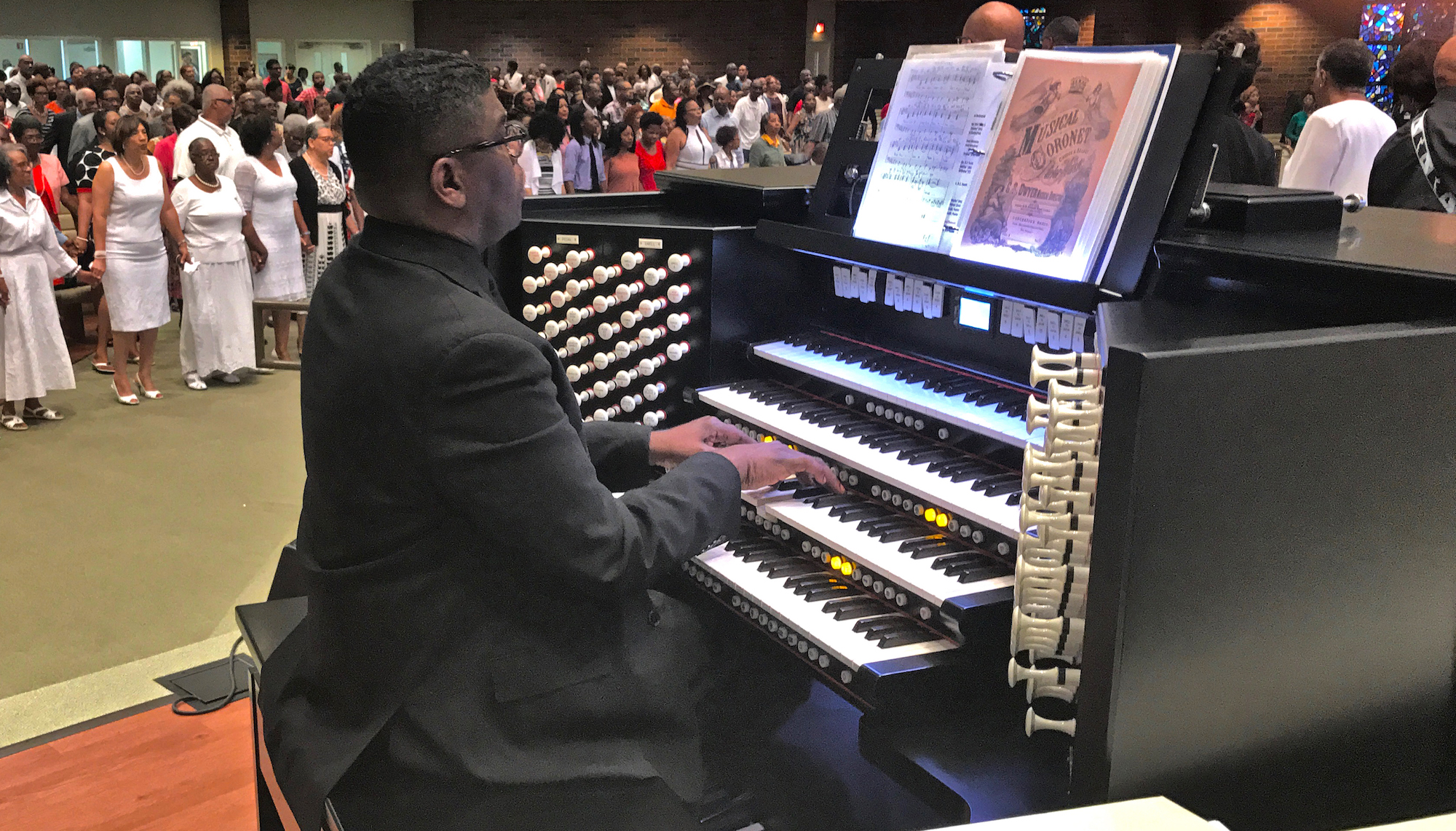 Congratulations to St. Paul Baptist Church, Charlotte on the installation of their new Rodgers Infinity 484 four manual organ. This stunning organ has a custom satin black finish, mechanical drawknobs and premium UHT solid wood keyboards. The organ was installed with a 20 channel audio system.
The custom console was installed with a 20 channel audio system and was previously the touring organ used by world famous concert artist Hector Olivera. It was also used by the Charlotte Symphony the week prior to installation with permission of St. Paul's.
Elon Baldwin has been the Organist at St. Paul's for 25 years. He was kind enough to spend some time with us for the purposes of this piece and to shed light on why St. Paul Baptist Church chose the prestigious Rodgers 484 Infinity Series organ.
ABOUT ST. PAUL BAPTIST CHURCH
"St. Paul Baptist Church was founded in 1900. We're located in an urban residential setting, less than a mile from the heart of downtown Charlotte. Our campus consists of two (2) sanctuaries, an administrative building and gymnasium. The Rodgers Infinity 484 resides in our Main Sanctuary which seats 2,200 people. Our congregation is a thriving one, of 5,000 members. "
During its 117-year history, St Paul's Baptist Church has been a leader in advocating for the city's less fortunate. The church made space, for example, for a grassroots activist group called H.E.L.P., short for Help Empower Local People.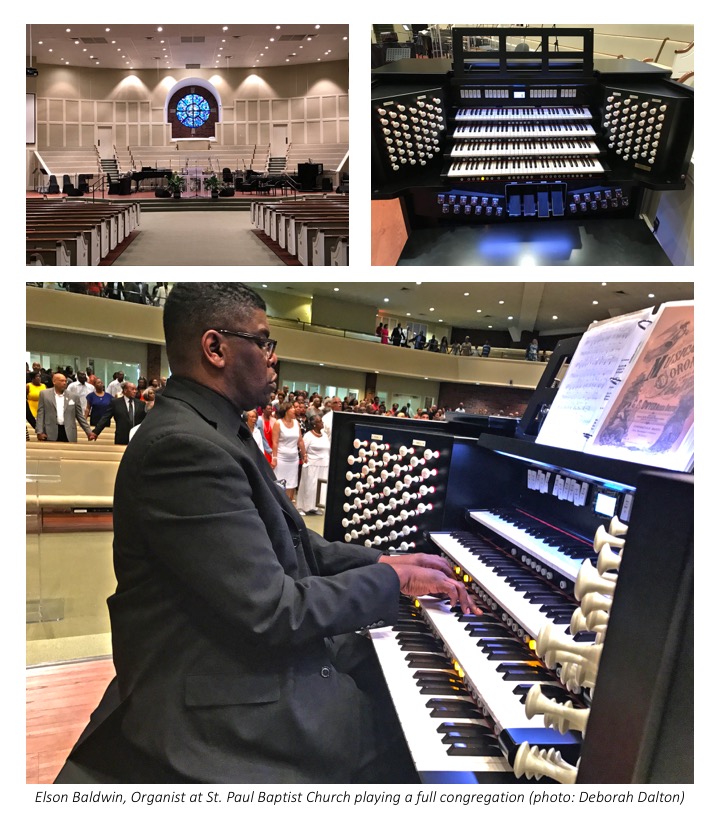 MUSIC DEPARTMENT AT ST. PAUL'S
"The Music Department of St. Paul Baptist Church consists of several choirs: Mass Choir (appx. 80 people), Male Chorus (appx. 60 people), an Adult Praise Ensemble, a Youth Praise Ensemble and a Children's Choir. Pianists, percussionists and a brass ensemble accompany all choirs.
A diverse repertoire of music is ministered; Hymns, Anthems, Classical and Gospel. Currently, the Rodgers Infinity 484 is used for the Prelude, Hymns, Anthems, Classical Literature and the Postlude."
THE RODGERS INFINITY SERIES ORGAN
"Playing the Rodgers Infinity is thrilling. It's versatile, powerful and responsive. The classical organ samples are authentic in each genre. The orchestral side of the instrument is comprehensive and blends well with other instrumentation and vocals.
The response to the organ is 'awe' at the authentic pipe organ tone, and the sheer power and ability to 'fill the room.'"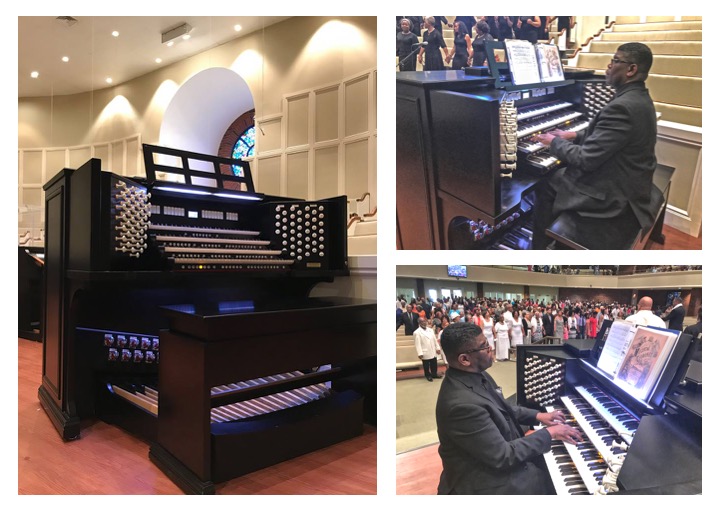 WHY RODGERS?
"I've been playing Rodgers church organs since 1978. Rodgers has always been my 'go-to' dealer for digital pipe organs. When the St. Paul Baptist Church moved into our Main Sanctuary in 1996, we chose Rodgers, at my request. I've been the organist at St. Paul since 1992.
Our disciples tell me the Rodgers 484 sounds as marvelous as the Fratelli-Rufatti Pipe Organ installed at the Friendship Baptist Church, here in Charlotte, NC in 2006."
REQUIRING A NEW ORGAN
"The St. Paul church saw the need to expand our musical capacity through the acquisition of the Rodgers Infinity 484. Most everything about the instrument is custom and we're thrilled to have it reside at St. Paul Baptist Church."
THE RIGHT CHOICE
"I'm positive that St. Paul Baptist Church made the right choice in the Rodgers Infinity 484. This particular organ will meet the musical needs of our congregation for many decades. The Charlotte Symphony Orchestra debuted our organ at a recent concert. It's an instrument any organist would be thrilled to experience through playing and hearing."
Rodgers Instruments would like to warmly thank Elson Baldwin, Deborah Dalton, St. Paul Baptist Church family for their time and generosity in speaking with us for the purposes of this article; and R. A. Daffer Church Organs Inc. for their continued professionalism and excellence in the field. We are truly grateful.