Testimonial: St. Pascal Catholic Church, Chicago, IL.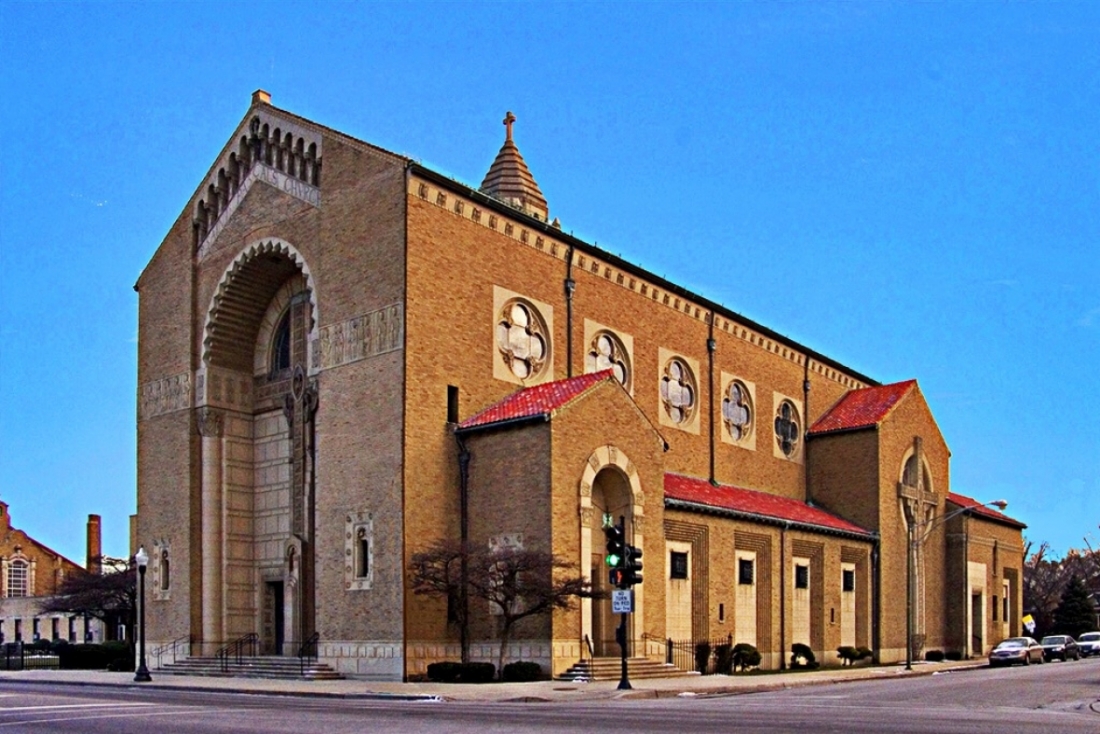 The St. Pascal Community has played a major role in the Diocese of Chicago. On April 8, 1997, Pope John Paul II appointed Saint Pascal School graduate, and former parishioner, Archbishop Francis Eugene George to the vacant See of Chicago, the first Chicago native to lead the Archdiocese. Francis George had been ordained into the priesthood at Saint Pascal Church on Saturday, December 21, the first and only time an ordination occurred within the church's walls. Archbishop George was elevated to Cardinal on February 21, 1998.
Construction on the majestic worship space began in 1930, in the shadow of the Great Depression, out-of-work parishioners supplying much of the labor. The Parish chose a Moorish, or more accurately, a Mudejar design that would evoke the sixteenth century civilization of the church's patron saint. The church's red clay tile roof and faux minaret reflect the Moorish influence, as do the high, yellow-brick outer walls, the quatrefoil windows, the interior multi-lobed archways, and the spectacular horizontal paneled ceiling, crisscrossed by intricately embellished beams in the Alfarje style. The façade features a shallow carved entry cove that bears a forty-seven foot cross with a half rose window behind it. Terra cotta trimmings adorn the building. Most strikingly, a 116-foot bell tower, approximately eleven stories tall, soars from the structure's southeast side. Architect Raymond Gregori added symmetrical and rectilinear Art Deco touches to the building's exterior. The church, at the corner of Irving and Melvina, opened for Mass Christmas Day, 1931.
Due to severe water damage, the original Kilgen pipe organ became unusable in 2015 which prompted the Parish to look for another instrument. Given the height of the balcony (which required choir members to climb many stairs), it was decided that an organ installation on the main floor would be more desirable. The unique design for a 5-Division instrument (proposed by Triune Music) won the approval of Tony Jurich (Musician) and the Very Reverend Paul G. Seaman (Pastor). Our design located the Great, Swell, Choir, and Main Pedal Divisions in the existing pipe chambers (rear balcony), and included a floating Solo Division in the former Echo Chamber on the East Side of the Nave with a new Antiphonal Division located out of sight near the choir and console at the front West side of the Nave. The resulting sound offers the "ultimate" in "surround sound" especially in this lovely acoustic.
"In 2014, our parish celebrated its centennial, and, as part of our centennial year, different events and celebrations were planned to mark this historic and joyous milestone. Unfortunately, we really weren't able to use our pipe organ from the 1930s at these liturgies, as most of it was in disrepair. In assessing our need for a new organ, we investigated all of our options and eventually decided to contact Triune Music. We were impressed by Rodgers' legacy of providing superior products, both pipe and digital. We are beyond pleased with the organ installed in our church. From leading the congregation in hymn singing to performing solo repertoire, the versatility that Rodgers provides is simply unmatched by other organ builders. The organ is voiced so well that many parishioners and organists assume we've restored our pipe organ! We are confident that this organ will boldly lead our parishioners in faith through music as we journey through our parish's second century."
Anthony F. Jurich
Director of Music and Liturgy