Rodgers and Carnegie Hall - A Long-Standing Tradition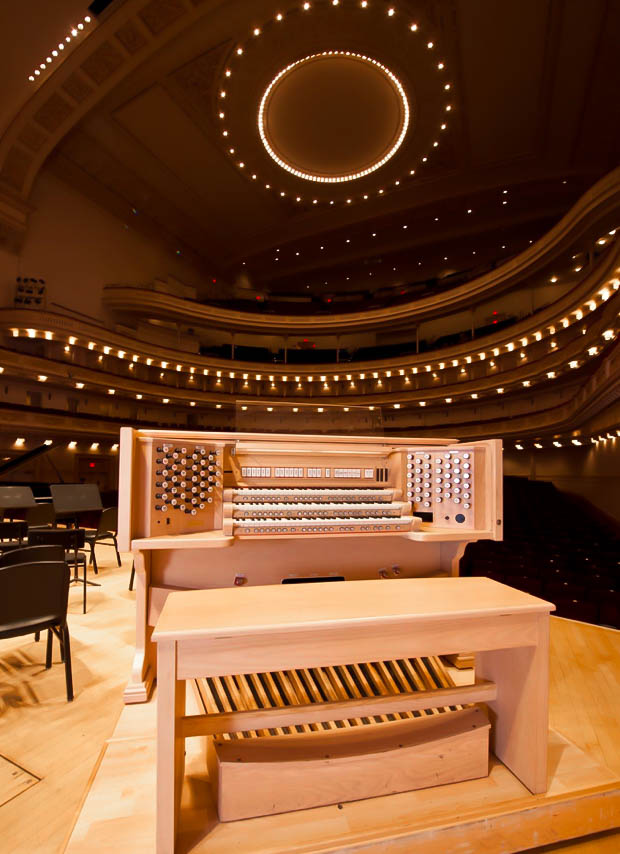 Carnegie Hall's current Rodgers organ was acquired in 2006 but the tradition of a Rodgers organ at the world famous hall has spanned over 40 years. The 3-manual custom organ is played approximately 20 times per season in the Stern Auditorium and has been used for a range of classical masterworks including Mahler's symphonies nos. 2 and 8, Brahms's German Requiem, Respighi's Pines of Rome and Fountains of Rome, Faure's Requiem, Holst's The Planets, Vienna Philharmonic, the Trinity Wall, Durufle's Requiem, Saint-Saëns's Symphony No. 3 as well as one of the Elgar Enigma Variations.
The organ is also used for commencement ceremonies every season and was used on November 14, 2006, for Paul McCartney's performance of his oratorio, "Ecce Cor Meum."
This year, Concordia College of New York's 500th Anniversary of the Reformation - Hymn Festival featured a 250 voice Adult Choir, and a 175 voice Student Choir accompanied by a chamber orchestra. Newly commissioned hymns written by Carl Schalk, Paul Weber, and Ralph Schultz will be performed as well as a number of familiar Choral anthems and Bach Cantata 80.
Last season, the organ was used 17 times for choral and symphonic concerts, and commencements on the following concerts:
| | |
| --- | --- |
| DATE | EVENT |
| 18 Sep 2016 | CBSN Choir |
| 16 Oct 2016 | Milal Chlir |
| 19 Oct 2016 | American Symphony Orchestra |
| 03 Nov 2016 | Oratorio Society of NY |
| 30 Nov 2016 | Royal Concertgebouw Orchestra |
| 14 Jan 2017 | Performing Arts Educators |
| 06 Feb 2017 | New York Choral Society |
| 13 Feb 2017 | Music for Life (Mahler for Vision) |
| 07 Mar 2017 | The Philadelphia Orchestra |
| 17 Mar 2017 | The Orchestra Now |
| 20 Mar 2017 | Manhattan Concert Productions |
| 10 Apr 2017 | Manhattan Concert Productions |
| 25 Apr 2017 | Mannes Centennial Gala |
| 12 May 2017 | American Symphony Orchestra |
| 01 Jun 2017 | Weill Cornell Medical College Graduation |
| 19 Jun 2017 | Manhattan Concert Productions |
| 25 Jun 2017 | Worldstrides OnStage |
For more information on any of these individual dates, you can access that via the online Carnegie Hall Performance History Search
here
.
HISTORY OF RODGERS & CARNEGIE HALL
Designed in collaboration with Organist Virgil Fox, Carnegie Hall's original five-manual Rodgers console was inaugurated by Fox on October 1, 1974, to a captivated sold-out audience. This was the world's first five-manual and most powerful electronic organ at the time and was listed as such for a number of years in the Guinness Book of World Records. From that moment, a Rodgers organ has had a home at the famed concert hall.
"What Carnegie did was go electric. At a gala recital presented by Concert Organist Virgil Fox, the hall showed off its newest feature - a behemoth that can growl, sing, tinkle, purr and blast in a way unmatched by any other organ. Carnegie has a superb instrument capable of Baroque festivity, Romantic mystery, and 20th-century guts and power. Its complex contrapuntal layers of sound are clearer, more sharply defined than would have been possible with a conventional pipe organ. A one-of-a-kind creation built by the Rodgers Organ Company of Hillsboro, Oregon, the new instrument is the most up-to-date and expensive electronic organ in the world. Was Carnegie's new Rodgers really worth all that time and money? Emphatically yes."
— Time magazine, 1974

Organs were a passion of Carnegie Hall's founder, Andrew Carnegie, who had one in his house and helped fund the purchase of nearly 8,000 pipe organs to churches in the US and around the world. Carnegie was even reported to have joked that while he would not be responsible for what the preacher might say, he would be responsible for the positive influence of the music!
Andrew Carnegie wrote movingly about his belief that organ music enhanced the devotional experience of the churchgoer: "Many a bright boy…entranced by the celestial voice of the organ, will there receive his first message from and in spirit be carried away to the beautiful and enchanting realm which lies far from the material and prosaic conditions which surround him in this workaday world...."
The above quote from Andrew Carnegie aligns masterfully with Rodgers Instruments' mission of "Bringing a heightened spiritual experience to every service with the transformational power of music."