Rodgers Spotlight: Glen Kersten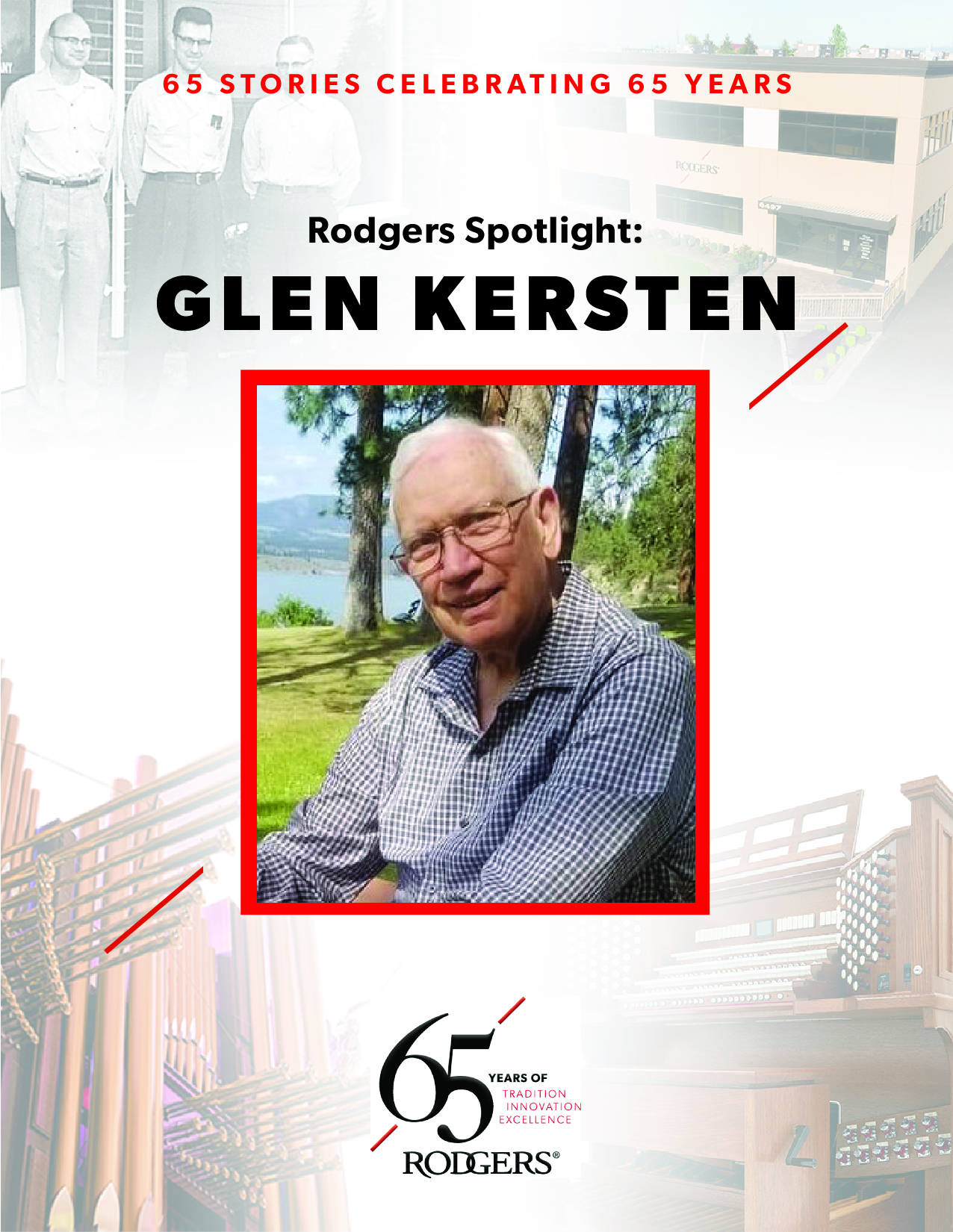 Glen Kersten has a rich 60+ year history with Rodgers. We honor him and his experiences with this story.
Soon after his wedding, a young Glen Kersten and his wife rented a small house owned by Frank Lohnes. Mr. Lohnes was the owner of a music store, Dearborn Piano & Organ, and hired Glen on his sales staff. Glen's first encounter with a Rodgers installation was during an early 1960s vacation to relatives who took him to their Tacoma, Washington, church to see and play their new Rodgers organ. Glen was so impressed that he persuaded Dearborn Piano & Organ to become a Rodgers dealer, with the agreement that Glen would sell Rodgers organs for them in Michigan.
In 1972, Gene Zarones, Rodgers' Vice President of Marketing, visited Glen and said he had sold more Rodgers organs than anyone else in the world. He asked Glen to Join Rodgers as the Eastern Sales Manager, covering the Eastern two-thirds of the U.S. During the next couple years, Glen more than doubled the Eastern territory sales volume.
Rodgers then asked Glen to move to Hillsboro, Oregon, to assume the position as Director of Sales Training and Dealer Development. The national sales volume for Rodgers again doubled in one year. Soon after, Glen became Engineering Manager. Glen worked closely with the company's co-founders, President Rodgers Jenkins, and Chief Engineer Fred Tinker. As Director of Custom Products, Glen was on the team that developed the company's first digital organ.
Glen first met Virgil Fox at a Dedicatory Concert performance on a custom Rodgers organ during the early 1960s. He was most impressed with the voicing that Glen had achieved under the direction of Ted Alan Worth. Virgil Fox later told Glen that installation won him over to Rodgers, leading to the building of his "Black Beauty" touring organ.
A few years later, Virgil Fox performed another Dedicatory Concert on a Rodgers organ in Pennsylvania which Glen attended as Rodgers Regional Manager. They had dinner following that concert, and he spoke lavishly about his growing favor of Rodgers sound over other brands. Virgil Fox then asked Glen to use his influence at Rodgers to have a touring organ built for him. That resulted in the famed Black Beauty touring organ, which persuaded Rodgers to build a twin to Carnegie's five-manual organ, named the Royal V.

The Carnegie Hall custom five-manual organ was installed in 1974. Glen personally installed the organ's Solo division speakers above the ceiling circle of lights. That organ and Glen's team are listed in the Guinness Book of World Records for that year under the category of innovations.
With his knowledge of the instruments, Glen wrote the company's sales training manuals and conducted several business seminars. In 1977, Glen opened his own dealership, Kersten Music Corp., in Seattle, focusing (not surprisingly) on the Rodgers brand of instruments, receiving several sales awards and "top ten" dealer positioning.
Glen now performs organ consulting and servicing work for churches on a semi-retired basis.
We salute you, Glen!