Theological College celebrates the new Gerald F. Muller Organ!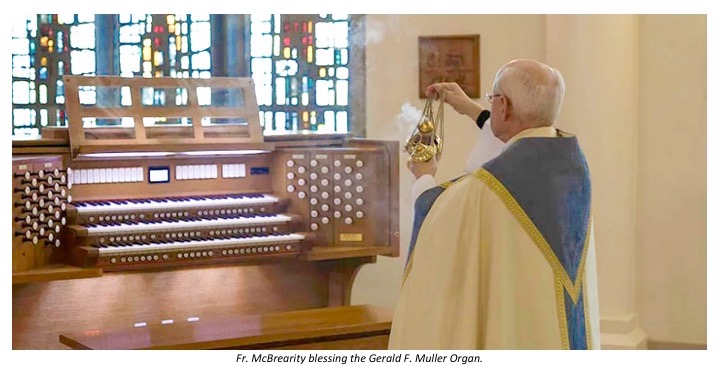 40 years later, trusted Rodgers Dealer R.A. Daffer Church Organs, Inc., and loyal client Theological College, meet once again to celebrate the arrival of a new Infinity Series three manual 61 stop hybrid organ. Theological College purchased the first organ ever installed by R.A. Daffer Church Organs in 1977, and this reunion is made even more special because the organ is dedicated to Dr. Gerald F. Muller, TC SCHOLA and Music Program Director, and Daffer friend of over 50 years. Dr. Muller has conducted and directed over 200 operas and musical theatre productions.
Theological College welcomes the inauguration of the Gerald F. Muller Organ, along with their 100th year anniversary with a beautiful recital by Daniel Roth, Organiste Tutilaire of the Church of Saint-Sulpice in Paris, France.
ABOUT THEOLOGICAL COLLEGE
Theological College is the national Roman Catholic diocesan seminary located in Washington D.C. In the year 1791, at the invitation of Bishop John Carroll, Sulpicians from France opened the first diocesan seminary in the United States; St. Mary's Seminary in Baltimore, Maryland. In 1917 a mission seminary of St. Mary's, Sulpician Seminary, opened in Washington D.C. with forty fourth-year seminarians. They live in Caldwell Hall and were taught by three Sulpicians and one Paulist. At this time they were not known as the Theological College and were first founded as the Sulpician Seminary. It was not until 1940, that the ratification of a contract between Sulpician Seminary and CUA, through which the seminary was renamed Theological College and became a national pontifical seminary. All academic formation is now at CUA, with all other formation at Theological College.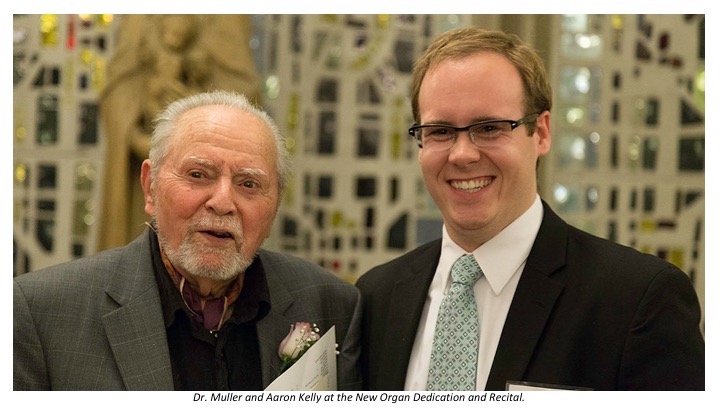 THEOLOGICAL COLLEGE: IN THEIR OWN WORDS
Sixty patrons and friends of Theological College joined the community in the seminary's main chapel for an unparalleled event in the history of TC: the dedication of a new organ, celebrated with a recital by Daniel Roth, Organiste Tutilaire of the Church of Saint-Sulpice in Paris, France, where Fr. Jean-Jacques Olier founded the Society of Saint Sulpice. Dr. Gerald Muller, to whom the organ is dedicated, has served as the Director of Music at Theological College for 18 years and will be retiring at the end of this year. It was through the dedication and hard work of Dr. Muller that the new organ became a reality. The recital consisted of five pieces focused around the theme of "Passion and Resurrection." Roth played a varied repertoire which evidenced his incredible skill and creative gifts: the "Fantaisie and Fugue in G Minor BWV 542" by Johann Sebastian Bach, "Prière" by César Franck, "Scherzo from Symphonie No. 2" by Louis Vierne, an original work titled "Gloria Patri from Livre D'Orgue Pour Le Magnificat," and "Symphonie No. 6 in G Minor, Op. 42, No. 2" by Charles-Marie Widor.
PLAYING THE RODGERS ORGAN
Aaron Kelly (2nd Basselin, Diocese of Rochester), Theological College seminarian organist, commented, "It has been a pleasure over the past few months to have the opportunity to play the new, Gerald F. Muller Organ for house liturgies and for personal leisure and to learn the new instrument. Listening to Daniel Roth and being present for the dedication of the new organ reminded me of the words of Albert Schweitzer, who said, 'If you are called upon to play a church service, it is a greater honor than if you were to play a concert on the finest organ in the world… Thank God each time when you are privileged to sit before the organ console and assist in the worship of the Almighty.' The Gerald F. Muller Organ will be used for many years to aid the seminary community in offering worship to God."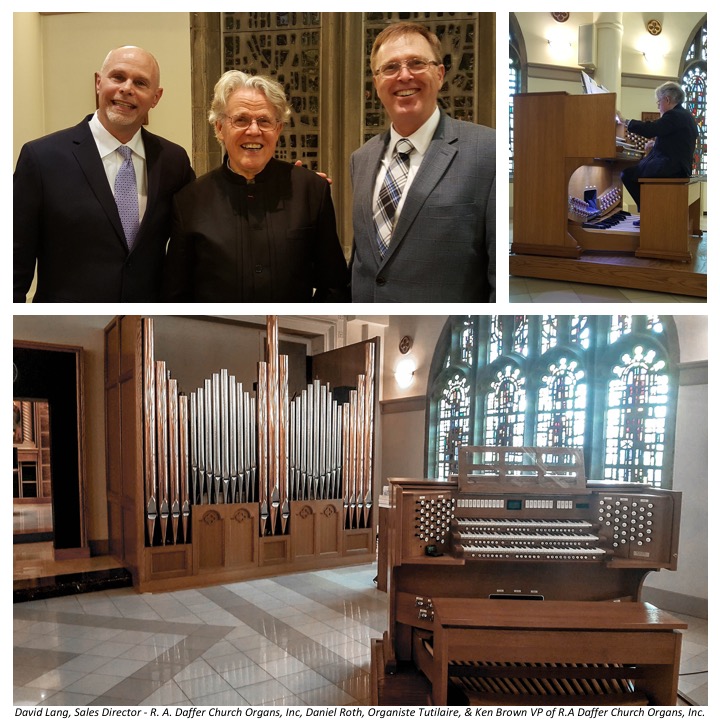 A MESSAGE FROM ROBERT DAFFER, PRESIDENT, AND FOUNDER OF R. A. DAFFER CHURCH ORGANS, INC.
When I started my business in 1977, Theological College purchased the first Rodgers Organ I installed. The chapel was larger then and had very favorable acoustics. Father Lobo, P.S.S., who was rector at that time, was a wonderful friend and supporter. He allowed us to bring prospective organ customers to see and hear that excellent example of our work. His kindness is one of my fondest memories. Forty years later, we are now in the process of installing a new Infinity Series three manual 61 stop pipe/digital hybrid organ. The façade has a mix of polished copper and shiny tin/lead pipes in the display. The exquisite casework is constructed of wood with a finish that matches the chapel's furnishings. Appropriately sized for the chapel, when completed, this instrument promises to be one of the finest and most beautiful ones we have ever built. Gerry Muller, my friend and colleague of over 50 years, has done tremendous work developing the music program at TC and has contributed greatly to the success of this instrument. Electrical preparation work for the installation began in the summer of 2016, and construction of the case was underway by December, with all the other physical pieces of the organ assembled in the chapel in February. The final step of tuning was the most important and intensive of these methodical processes. The seminary community has been attentively following our progress. It is not often that one can see the steps in construction of a real pipe organ; building methods have changed little since the first known installation of a pipe organ in a church, dated about 800 A.D. Daffer Church Organs and Theological College are proud that the Gerald F. Muller Organ debut and dedication in April heralded the Second Century Campaign and upcoming Theological College Centenary Celebration (which will begin at Alumni Days 2017).
Rodgers Instruments would like to warmly thank Theological College and R.A. Daffer Church Organs, Inc. for their upstanding devotion and contribution to the rich world of liturgical music.
Photo and content credit - Theological College (www.theologicalcollege.com) and R.A. Daffer Church Organs, Inc. (www.dafferorgans.com)